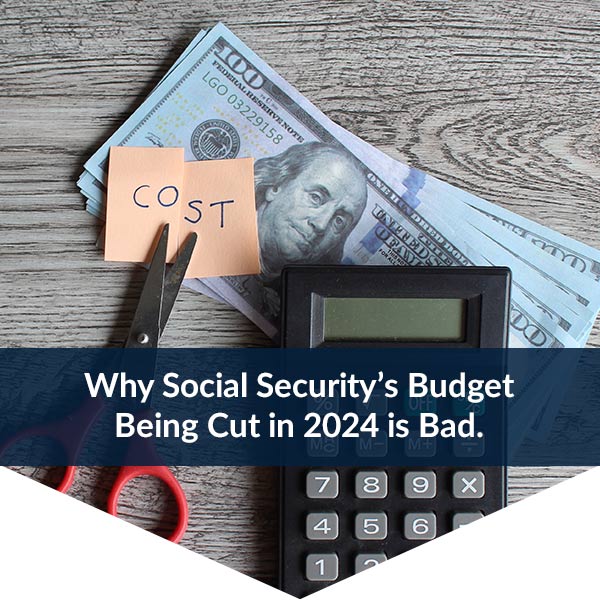 Why Social Security's Budget Being Cut in 2024 is Bad.
Republicans want to cut Social Security's operating budget in 2024, what are they thinking? Things are bad enough already, and they just want to make things worse. Cutting Social Security's operating budget would be an unmitigated disaster.
According to the Republican's latest budget proposal, they want to cut back all Government spending to 2022 levels. If they do, that would cut their operating budget by 6% compared to their budget in 2023. It would greatly reduce their ability to serve the public and recover from the effects of the pandemic.
Declining Social Security Operating Budget
Since 2010, Social Security's operating budget, on an inflation adjusted basis, has deceased by 17%. Its number of employees have declined by 13%. In fact, its current staffing is at the lowest level in 25 years. Their operating budget and staffing needs are experiencing these declines while many millions of baby boomers are retiring, and claiming their Social Security benefits. These decreases in funding and staffing had resulted in very long wait times. People are setting up appointments at Social Security's offices for many months in the future. There are record long waits for disability claims.
Currently, nearly 50% of the calls to Social Security's 800 number go unanswered or get busy signals. If people do get through, they are immediately put on hold and the average wait time is 35 minutes. Usually, the wait is much longer than 35 minutes. Many callers get frustrated and hang up before they talk to anybody. Some people go weeks calling the 800 number before they get through. 
What to Expect with a Cut in Social Security's Budget
Okay, that is the way things are now before the proposed budget cuts. If those budget cuts go through, here is what you can expect.
Social Security will have to close field offices, and the field offices that remain open will have their hours cut.
A hiring freeze will go into effect. They will be forced to reduce their work force by 5,000 employees. This will result in longer times to process benefit claims. This currently takes 6 months, and even longer wait times for people who call the 800 Number.
Increased wait time, up to 9 months from its current average of 6 months, for a decision for people who file Disability claims.
Expert Opinion
According to Social Security's Acting Commissioner, Kilolo Kijakazi, these devastating effects would occur if cuts to the operating budget go through.
"Cuts on this scale would dramatically undermine our ability to function effectively. It would cut in-person access to our field offices, drive up wait times for initial disability and retirement claims processing, lengthen phone wait times, prohibit development of online tools to compensate for the difficulties to reach us by phone and in-person, and create backlogs across the board. It would take years to recover and restore services to levels the public expects." 
The last line in that paragraph is the most concerning.
According to a survey by the nonpartisan Partnership for Public Service, in 2022, Social Security's Inspector General's Office ranked 431 out of 432 Federal subagencies. Social Security employees are understaffed, overworked and under paid. No wonder morale is so low and they are so unhappy. If these budget cuts to Social Security's operating budget go through, the situation will get worse, a lot worse. 
Every year, 3 – 4 million people claim their Social Security retirement benefits. If you will be one of those people in the next few years, you can expect incredibly long wait times. If you call Social Security's 800 Number, or try setting up an appointment Social Security's field offices, many offices will be closed. The ones that remain open will have their hours cut, much longer times for Social Security to process your claim for retirement benefits, and expect to wait a minimum of 9 months for a decision if you file for disability.
Things are already pretty bad, these budget cuts will only make things a lot worse. What are the Republicans thinking?